NORAD Tracks Santa Program Kicks Off for 2019.
The 64th iteration of NORAD Tracks Santa begins on Dec. 1 with the launch of the www.noradsanta.org website.
(NORAD Tracks Santa) NEWS RELEASE UPDATED
18:21 EST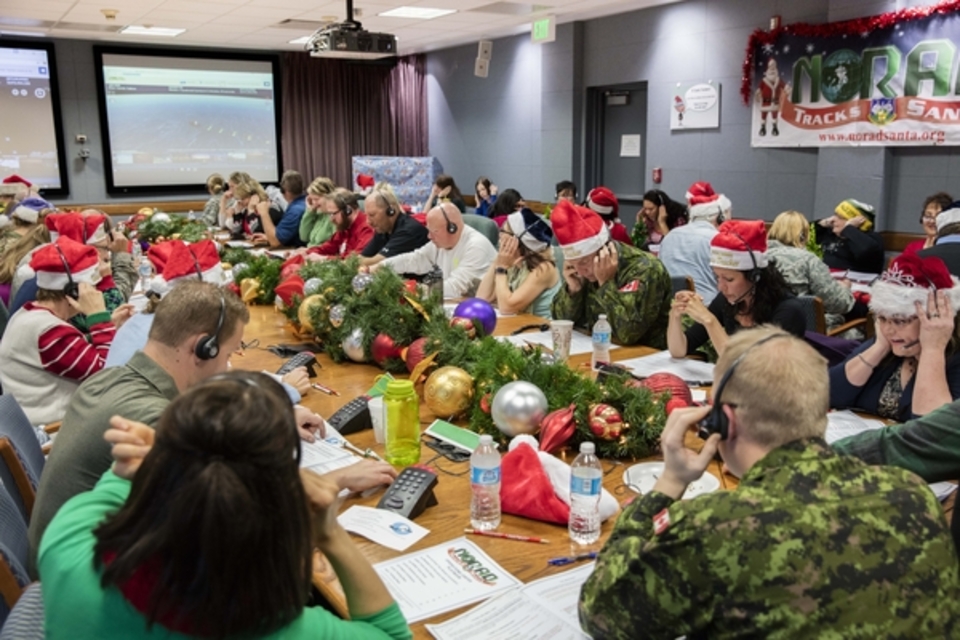 PETERSON AIR FORCE BASE, CO, November 30, 2019 /24-7PressRelease/ -- As the North American Aerospace Defense Command conducts its primary mission of defending the homeland, it stands ready to continue its tradition of tracking Santa's journey around the globe on Dec. 24.
"In addition to our day-to-day mission of defending North America, we are proud to carry on the tradition of tracking Santa as he travels along his yuletide flight path," said Gen. Terrence O'Shaughnessy, commander of NORAD and U.S. Northern Command. "The same radars, satellites and interceptors employed on December 24 are used year-round to defend Canadian and American airspace from threats."
The defense of Canada and the United States is NORAD's top priority. NORAD is a binational U.S. and Canadian command charged with aerospace and maritime warning and aerospace control of North America as well as monitoring aerospace activity globally. However, every year during the holidays, NORAD assumes the supplementary mission of tracking Santa as he travels around the world.
It all started in 1955 when a local newspaper advertisement informed children they could call Santa directly – only the contact number in the advertisement was misprinted. Instead of reaching Santa, the phone rang through to the crew commander on duty, U.S. Air Force Colonel Harry Shoup, at the Continental Air Defense Command Operations Center, the predecessor to NORAD. Col. Shoup was quick to realize a mistake had been made, and assured the child he was Santa. Shoup then assigned a duty officer to continue answering calls. Thus, a tradition was born, and continued when NORAD was formed in 1958. Each year since, NORAD has reported Santa's location on Dec. 24 to millions of children and families.
On Sunday, December 1, the 64th iteration of NORAD Tracks Santa begins with the launch of the www.noradsanta.org website. NORAD Tracks Santa is truly a global experience, delighting generations of families everywhere. This is due, in large part, to the efforts and services of numerous program contributors and volunteers.
On Dec. 24, users may call 1-877-HiNORAD for Santa's up-to-date location.
-30-
NOTE TO MEDIA MEMBERS: If interested in covering the NORAD Tracks Santa program, send requests to NTSMedia@outlook.com or call (719) 554-6889. Also visit the NTS DVIDS page http://www.dvidshub.net/feature/NORADTracksSanta for B-roll video, photos and more.
Additional NORAD Tracks Santa details:
Starting on Dec. 24 at 2:01 a.m. EST, website visitors can watch Santa make preparations for his flight. NORAD's "Santa Cams" will stream videos on the website as Santa makes his way over various locations. Then, at 6 a.m. EST, trackers worldwide can speak with a live phone operator to inquire as to Santa's whereabouts by dialing the toll-free number 1-877-Hi-NORAD (1-877-446-6723), by sending an email to noradtrackssanta@outlook.com or by following the official NORAD Tracks Santa social media channels. Additionally, any time on Dec. 24, Amazon Alexa users can ask for Santa's location through the NORAD Tracks Santa skill for Amazon Alexa, and OnStar members can push the blue OnStar button in their vehicles to locate Santa.
Featuring Santa's North Pole Village, the website includes a holiday countdown, games, activities, information regarding NORAD's mission of defending North America, and more. The website is available in eight languages: English, French, Spanish, German, Italian, Japanese, Portuguese and Chinese. Tracking opportunities are also offered through social media on Facebook, Twitter, YouTube and Instagram.
Public signups to work in the NORAD Tracks Santa operations center and receive calls from children around the world are currently ongoing. Anyone interested in volunteering to take calls must be older than 15 years of age and be able to travel to Peterson Air Force Base in Colorado Springs, Colo. on Dec. 24. Interested individuals can sign up until Dec. 12 at: https://NORADSantaVolunteers.as.me
This year's contributors include: the 21st Space Wing, 24-7PressRelease, Acuity Scheduling, Alaskan NORAD Region, Analytical Graphics, Inc., Agingo, Amazon Alexa, Avaya, Bing®, Canadian NORAD Region, Canadian Forces Museum of Aerospace Defence, CenturyLink, Cesium, Cherry Hill Programs, The Citadel Mall, Civil Air Patrol, Christmas in the Park, Colorado Springs Chamber & Economic Development Corporation, Continental NORAD Region, CradlePoint, Defense Video & Imagery Distribution Systems, DoD News, DoD Education Activity, The Elf on the Shelf, Extended Stay America, Getty Images, Globelink Foreign Language Center, Hewlett Packard, Historic Arkansas Riverwalk of Pueblo, Marine Toys for Tots Foundation, Microsoft®, Microsoft Azure, Naden Band of Maritime Forces Pacific, Navy Band Northeast, OnStar, Plantronics, Portable North Pole, Proactive, S4, SiriusXM®, Six String Soldiers, Space Foundation, U.S. Air Force Band, U.S. Air Force Academy Band, U.S. Department of State Family Liaison Office, United States Olympic & Paralympic Committee, and Verizon.
The North American Aerospace Defense Command (NORAD) is a United States and Canada bi-national organization charged with the missions of aerospace warning, aerospace control and maritime warning for North America. Aerospace warning includes the detection, validation, and warning of attack against North America whether by aircraft, missiles, or space vehicles, through mutual support arrangements with other commands.
# # #
Share this News Release